Supplements
BarleyMax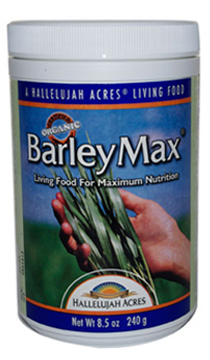 Build strong, healthy new cells in your body.
BarleyMax is a certified organic whole-food concentrate made from the juice of young barley grass and alfalfa. It is kept enzymatically alive with low-temperature processing that does not damage heat sensitive nutrients.
BarleyMax has a broad spectrum of naturally occurring vitamins, minerals, amino acids and trace minerals concentrated for easy absorption into the body.
Gluten Free
100% Vegetarian Product
Vegan Certified
USDA Certified Organic
Kosher Food
No Artificial Colors
No Preservatives
Contains No Fiber
No Fillers
Large 8.5 oz, 2 Month Supply
What Makes BarleyMax Different?
Through a new drying process, we're able to produce a finer, yet more compact powder-while still keeping the high nutritional content you need, plus even higher levels of protein, Vitamins A and E, Folate, Zinc, Manganese and Potassium! The result is a denser powder, so you can use less per serving-only 1 level teaspoon-to get the full nutritional value!
Unlike some other barley grass products, BarleyMax contains no Maltodextrin, which is a plus for people who are sensitive to this preservative or who suffer from conditions that affect blood sugar. Our extensive studies show the superior enzymatic activity in BarleyMax does not diminish for lack of Maltodextrin.
BarleyMax is grown on certified organic farms, and contains no additives or fillers. It is a 100% pure juice powder that promotes detoxification and is a rich source of anti-oxidants. Because of its richness in nutrients, drinking BarleyMax and freshly extracted vegetable juices will aid the body in detoxification and in the activation of its self-healing.
---
Fiber Cleanse Powder
Fiber Cleanse contains a balanced blend of 28 herbs in a psyllium and flax seed base to help you cleanse the colon, restore optimal bowel function, and ensure timely elimination of toxins from the body.
Contains Psyllium
Creates a gelatinous bulk that sweeps the colon clean of putrefied feces.
Contains Flax Seed
Flax seed is a rich source of Omega 3 and Omega 6 fatty acids
Flax seed is a natural laxative
Flax seed regulates blood sugar levels
Contains Herbs
Regulates bowels
Expels parasites
---
B12, B6, Folic Acid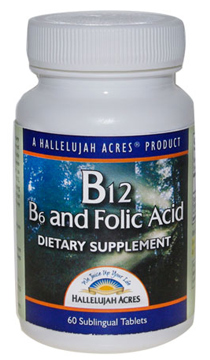 Feeling tired and run down? You're not alone. Vitamin B-12 is mostly found in animal products, but even meat-eaters may not be getting enough. The American Journal of Clinical Nutrition reported in 2000 that 39% of individuals tested had low-to-normal levels of B-12 in their blood. 17% had levels low enough to cause symptoms of deficiency.
Contains Methylcobalamin, the preferred form of vitamin B12. Methylcobalamin is active in the body immediately upon absorption while the cyanocobalamin form must be converted to an active form prior to utilization. Numerous studies suggest that vitamin B12, vitabin B6 and Folic Acid play an important role in optimizing homocysteine levels in the body.
Chewable sublingual tablet
Vital supplement for vegans and vegetarians
A Hallelujah Diet Complement
Vitamin B12 combined with Vitmin B6 and Folic Acid for maximum benefits
What is B12 good for?
If you thought, because you're a vegetarian or vegan you're not getting enough Vitamin B-12 in your diet, you'd be right, since the vitamin is not found in plant foods. However, our meat-eating cousins are not faring much better, either. An article in the American Journal of Clinical Nutrition that appeared in 2000 reveals that 39% of individuals tested had low-to-normal levels of B-12 in their blood, and 17% had levels low enough to cause symptoms of deficiency.
After the results of research conducted by Dr. Michael Donaldson of the Hallelujah Acres Foundation revealed low levels of B-12 in 47% of the 54 subjects, it became clear that it is wise for everyone to be aware of their need for B-12, regardless of their diet. And for those following a vegan or vegetarian diet, including The Hallelujah Diet, it is vital to use a B-12 supplement. But which one? After reviewing the best of the best, we knew we could go one better.
Vitamin B-12 Benefits
Maintains healthy nerve cells
Maintains red blood cells
Makes DNA, the genetic material in all cells
Aids in proper digestion and the absorption of foods
Helps with the synthesis of protein
Helps metabolize carbohydrates and fats
Plays an essential role in many other metabolic processes
Aids in cell formation and cellular longevity
The Health Benefits of Folic Acid (Folate)
For pregnant women and women who hope to become pregnant, Folic Acid plays a vital role in the healthy development of the fetus
Crucial for a healthy heart
The Benefits of B-6 (Pyridoxine)
Pyridoxine is involved in more bodily functions than almost any other single nutrient. It affects both physical and mental health. (Prescription for Nutritional Healing)
May improve:
production of hydrochloric acid
absorption of fats and proteins
sodium and potassium balance
promote red blood cell formation
support for normal brain function
absorption of B-12
support of the immune system
hormonal balance
---
Professional Strength Probiotic Supplement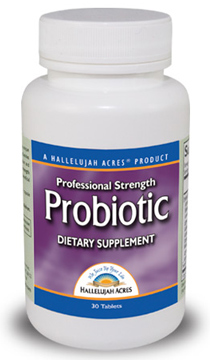 Power-packed formula includes all the probiotics you need in one tablet.
Hallelujah Acres' Professional Strength Probiotic formula contains seven, naturally sourced, non-GMO bacteria - 5 strains of Lactobacillus species and 2 strains of Bifidobacterium species. Together this formula supports the friendly flora in the small intestine, where you find Lactobacillus species and the colon, where Bifidobacterium species prefer to colonize.
And now, they are more effective than ever thanks to the patented Bio-tract® processing that ensures more probiotics survive your digestive acids and make it to your intestines and colon. This unique, timed release tablet maximizes delivery of Lactobacillus and Bifido bacteria directly to small intestine and colon.*
High initial CFU count looks great - but what really matters is what makes it past your stomach acids! 70% of New Professional Strength Probiotics make it to your small intestines and colon - right where you need them the most. Typical probiotics only deliver 10%.
One caplet a day will coat your entire GI tract with beneficial bacteria. No other probiotic technology can do that!
Plus new Professional Strength Probiotics need no refrigeration.
Thanks to patented LiveBac® technology, you can take them wherever adventures or business leads you -hike, fly, RV or work late at the office without worrying about keeping your probiotics cooled. LiveBac® protects probiotics from moisture and oxygen which keeps them stable at room temperature for at least 18 months.
10 billion CFU guaranteed through expiration date.
---
Digestive Enzymes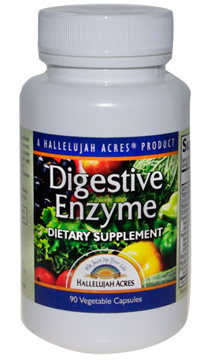 Digestive enzymes should be taken with all cooked foods (before, with, or after the meal). Our Digestive Enzymes supplement contains live enzymes that help improve poor digestion and the absorption of nutrients from the foods we eat. If you eat cooked or processed foods, most of the enzymes in those foods are essentially destroyed, so it is especially important for you to take a supplement of living enzymes, to support digestive health in the body.
The Effectiveness of Dietary Enzymes in Improving Health - NEW Study, just released by Michael Donaldson, PhD.
Read Technical Data on Probiotics Found in Hallelujah Acres Digestive Enzyme - Rhodia probiotic cultures are used in all of the Hallelujah Acres supplements that contain probiotics. For technical data as to the individual strains acid/bile tolerance, ability to adhere to the colon wall, sensitivity to various antibiotics, and ability to inhibit pathogens view the Technical Data Chart. The higher number of + in any given area indicates better performance or stability in that specific area. S stands for Sensitive, I stands for Intermediate, and R stands for Resistive.
The First Quantitative Evidence Proving the Efficacy of Supplemental Enzymes - From National Enzyme Company & TNO Nutrition and Food Research
---
*The statements made herein have not been evaluated by the Food and Drug Administration. This product is not intended to diagnose, treat, cure, or prevent any disease.